Tracey Moore
Voice acting/Voice Demo
One of Canada's most popular voice actors and directors, Tracey has voiced on literally hundreds of projects, most notably Serena in Sailor Moon – which she also cast and voice directed. Other well-known leading roles include Ned in Ned's Newt; George in George Shrinks; Shreeky, Hugs, Cheer and Share Bear in Care Bears; Princess Toadstool in Super Mario Bros.; Warbeak in Legends of Redwall; Marcus in Flying Rhino Jr. High; Geek in Sam and Max; Emily in The Railway Dragon, and many others, including several animated films.
She has voice directed on many series for Nelvana and other companies on projects like Highlander, Mythic Warriors, Bad Dog, Magic School Bus, Beetlejuice, Something from Nothing, and many more.
She has recently completed an award-winning children's audio book, The Last Sasquatch, in which she voices all of the female characters. Tracey's recordings have also won Junos with the popular Classical Kids series (Mr. Bach Comes to Call, Mozart's Magic Fantasy) in which she voiced the leading characters, and Wanda the Littlest Wizard, in which she both sang and acted the lead.
For 10 years, Tracey acted as casting and voice director at Nelvana Studios. Her work has garnered multiple awards and a Disney Channel Award.
Tracey has appeared in leading roles on Broadway and across Canada. Her stage work has garnered awards in both Canada and the US. She is listed in Canada's Who's Who, Wikipedia and IMDB. She has been a guest instructor at York University and Artist-in-Residence at Dalton School NYC.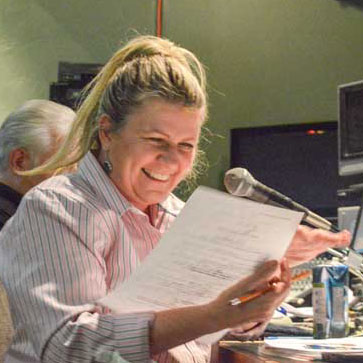 Tracey Moore is one for the most incredible people I have ever worked with. There are few people on this planet that can do what she can with such ability. I always felt like I was in the true presence of greatness when I was with her. A more giving and supportive person you will not find.
Toby Proctor
The voice of Tuxedo Mask
From the hit series "Sailor Moon"

Thanks to Tracey Moore's demo session, I now have an agent and a lead role in a series on Netflix! Tracey opened the doors for me and showed us exactly what we needed to do to crack into this industry. I really owe my success so far to Tracey's incredible coaching! Take this workshop, really apply yourself, and you'll be set up for success in voice acting!
Connor Parnell
Lead voice, Kai (The Hollow on Netflix) and Silas (Beyblade)
THANK YOU a million times for everything you taught me in that course!! No joke- totally changed the trajectory of my life, and I'm so grateful!!
Holly Oaken
Kawaii Kunicorn
www.kawaiikunicorn.com
933K subscribers